Welcome to this week's Wednesday Wrap, where we provide some interesting stories from recent weeks which you might not have seen.
Companies which refuse to pass on the cut to Sunday penalty rates
At the beginning of this month, the cuts to Sunday penalty rates came into effect.  This was the result of a Productivity Commission report which said that Sundays no longer held the importance once attributed to them, and so industries where Sunday demand was high - hospitality, entertainment, retail, restaurants and cafes – should not attract a higher rate of pay for Sunday work. 
A number of businesses have refused to pass on the cuts, maintaining the wages of their staff who work on Sundays, despite not being legally required to do so.  There is a full list of companies keeping Sundays special which you might like to look at and support (even if you shop on a day other than Sunday!)
http://businesses4penaltyrates.com.au/
Man proposes to two sisters at the same time
US man, Will Seaton, began dating his now- fiancée, Ashley Schaus, seven years ago.  At the time the two started dating, Ashley told Will that she came as a "package deal" with her sister Hannah, who has both Down Syndrome and diabetes.  From that time, Hannah was included as part of their relationship – including the proposal.
Before proposing to Ashley, Will got down on one knee, and asked Hannah to be his "best friend forever."
Bride donates called-off wedding reception to homeless
After calling off her wedding and realising the reception was on-refundable, US bride Sarah Cummins decided to turn her sadness into a gift to others.  Cummins contacted local homeless shelters to extend the invite to the homeless in the neighbourhood.
I imagine that Sarah could have asked the reception venue to package up the food and donated it to the local shelters, but she went ahead with the full dinner: table settings, flowers and everything included.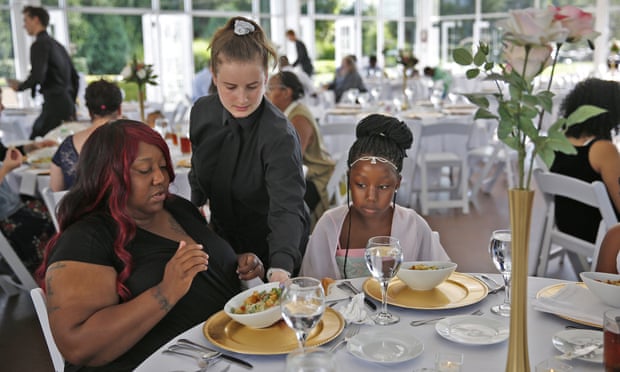 Mother sleeps outside to protect her son
Melbourne woman and mother of five, Leanne Thompson, has a son Daniel who is an ice addict.  She tells the story of the first time she saw him sleeping on the street, saying it is something she will never forget.  Despite being arrested numerous times, Daniel has not been imprisoned, nor has he managed to be kept into a mental health centre for more than a few days.
One night, Leanne got a sleeping bag and slept beside him.  Other nights, she stands watch over him while he sleeps, placing photos of the family beside him – hoping to break through the erratic behaviour caused by the drugs he is on.
Many parents struggle with how to deal with a child who is on drugs.  While people might debate whether Leanne's approach is best, you cannot doubt her love.
Monica Doumit, catholic Talk contributor